They left home to join the self-declared 'Islamic State' in Syria or Iraq. They are originally from 33 other countries; 15 of them European. The UK is the European state with more returnees, while France is the one with more foreign fighters who join ISIS on the ground, according to a new study.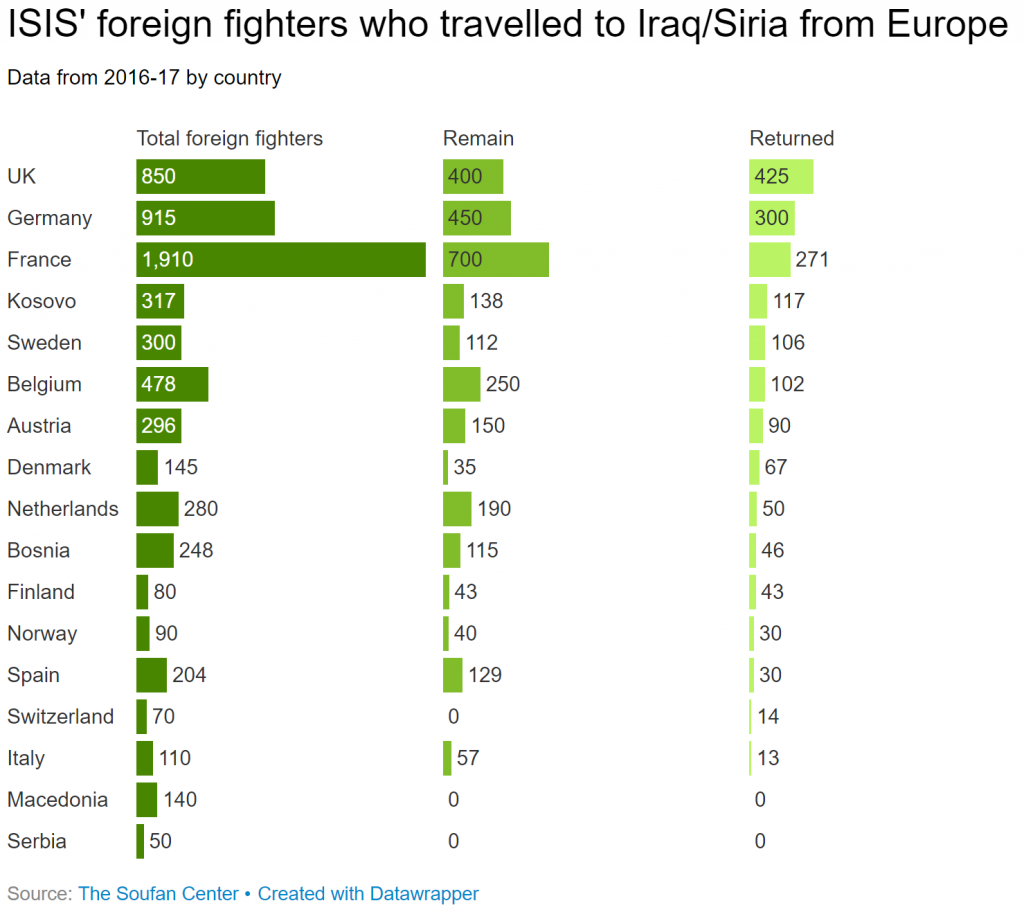 Of the nearly 30,000 people who left their country -the so-called 'foreign fighters', at least 5,600 citizens or residents of 33 countries have returned home; 1,700 of them, to Europe. These are data of the new report Beyond the Caliphate; Foreign fighters and the threat of returnees published by the The Soufan Center, an organization devoted to the analysis of global security and emerging threats based in New York.
Most of the foreign fighters of ISIS or Daesh are originally from the former Soviet republics (more than 8,700), followed by people from the Middle East (more than 7,000) and in the third place, from Western Europe (more than 5,700). At present there are at least 15 European countries – including the Balkans – that have recorded the return of these suspected terrorists to their countries.
Although the United Kingdom is the third European state in number of foreign fighters, it is the one that more returnees has registered: 425, according to data of February of 2017. That is 25% of a total of 1,700.
On the other hand, France is the European country which produced more foreign fighters: it estimates that 1,900 citizens or residents in their country travelled to Iraq and Syria to join Daesh on the ground of their supposed caliphate; at least 271 of them have returned, according to data from last August. Germany is the second country most affected by this phenomenon, with approximately 915 foreign fighters and a large number of returnees in Europe: approximately 300, according to March figures.
It is important to note that not all those who are counted as foreign fighters managed to arrive at their destination, as on many occasions the Turkish, Moroccan or other authorities prevented them from doing so thanks to the cooperation with their countries of origin.
France is the European country that has frustrated more attempts of this emigration: more than 2,600. Behind it are Belgium (over 1,500), UK (about 1,200) and Germany (over 650).
The returnees pose a "huge challenge" for security and law enforcement but most of the attacks claimed by Daesh both on European soil and in the rest of the world were not carried out by returnees
Richard Barrett, author of the report and former director of global counter-terrorism at MI6, says that returnees pose a "huge challenge for security and law enforcement entities". But at the same time he acknowledges that the facts show that in most of the attacks claimed by Daesh both on European soil and in the rest of the world were not carried out by returnees, the same argument Raffaello Pantucci, counterterrorism expert of RUSI think tank, recently pointed out on Salam Plan.
"They generally appear to have had a stronger desire to join something new rather than destroy something old. As a result, returnees have, so far, proved a more manageable problem than initially anticipated," Barrett says. And reminds that last September, the French authorities spoke of a decrease in the ratio of returnees.
Barrett, who also was UN coordinator of its al-Qaida/Taliban monitoring team from 2004 to 2013, points out as well that among those who return there are also repentant or disenchanted people, because they did not find what they were looking for when they followed the promise of the alleged caliphate of Abu Bakr al-Baghdadi.
"Returnees have, so far, proved a more manageable problem than initially anticipated (but) states have not found a way to address the problem of returnees. Most are imprisoned, or disappear from view"
Nevertheless, Barret warns that the defeats on the ground and loss of terrain- especially now, following the recent fall of Raqqa, the 'capital' of the terrorists – will lead its leaders to put more emphasis on supporting terrorist attacks outside Syria and Iraq, also profiting from the returnees. There are also women and children among them, by the way.
In his report, the analyst warns: "States have not found a way to address the problem of returnees. Most are imprisoned, or disappear from view. There will be a need for more research and information sharing to develop effective strategies to assess and address the threat."